We enable customers to connect to you via telephone and internet browser simultaneously, with a single click. It's a compliant co-browsing experience. You can collect data remotely, with complete privacy assured.

Go to a website.
Select the type of transaction.

Initiate a voice conversation.


Guide the users through each step in your business process. Collect and verify the data. Confidently close the transaction.
Comprehensive Compliance
A customer's approval is as compliant as if you were sitting face-to-face in their home.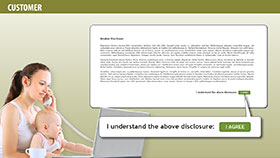 BUSINESS PROCESS & RULES
We ensure uncompromised adherence to standards, regulations & other requirements.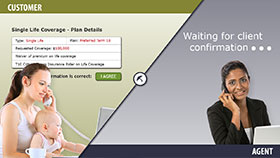 INTEGRITY & SECURITY
We securely validate, review and approve at every stage of the process.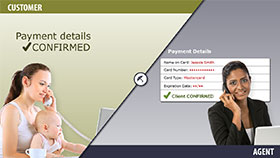 STEP-BY-STEP CONFIRMATION
Every step of the transaction is tracked and recorded to meet quality and regulatory requirements.
Your customer receives a link.
We do everything else.
All browsers supported
No downloads or installations required.
Integrated
Adapts to conform with your existing workflow requirements.
Reliable
Works with all standard phone and internet browser technology.
It's easy to use.
We support agents by helping them every step of the way.
Explore this video series as we walk through a standard insuranceAssist application process, from start to finish.
About Us
NOW Solutions Group was founded in 2010, to provide Remote Transaction Assistance for insurance and financial service companies. Our corporate philosophy is built upon on elegant simplicity, reliability and a people-focused approach to technology.
Our Board of Advisors
Our advisors offer a wealth of experience
from the technology, insurance and financial services industries.
"Sales reps can give their clients the option of either face-to-face meeting or the online application. Ninety-percent of the time, the client chooses the online approach."
~ Churchill Insurance Brokerage
insuranceAssist application submissions are 40% more likely to be approved.*
*compared against traditional paper application submissions
Find us
We are proud members of the Centre for Social Innovation, located in the heart of Toronto.
Suite 300,
585 Dundas St E,
Toronto, ON M5A 2B7.
info@nowsolutionsgroup.com